You don't know me, and we may never meet. But you are very, very special to me and my family. You helped us so much – you changed our lives.
You came alongside us, by supporting Christians Against Poverty, when it felt the world was against us.

You provided help with no judgement, only kindness.
You are the reason we're free from debt today.
My name is Pia, and I'm writing to thank you because your gifts to CAP provided the lifeline we needed.
Our story started when me, my husband Rob, ten-year-old Thomas and our daughter Rose, nine, moved into a small rented home. (We had been living with my mum, but Thomas has additional needs and, really, we needed our own space.)
The house was old and poorly-insulated. You can imagine the type… single-glazed windows and an ancient boiler. Even if we shared baths and just had one radiator on, it cost £50 a week on the gas pre-payment meter. When petrol prices went up too, it hit us hard. Thomas (he's enjoying the school holidays now) has been attending a special school quite a distance away, and I took him every day before work.
Before long we couldn't afford to live – and the debt began to mount up. (I also wasn't sleeping because the debt was so stressful.)
Sometimes I wonder how we got into such trouble. Like you, we're normal, hardworking people. Rob is a postman and I'm a health and safety manager. We earn a good wage! We don't go on holidays or buy luxuries.

The cost of living alone pushed us into debt. But then your compassion showed up in our lives – and changed everything.
I heard about CAP from Thomas' support worker, and from the very first phone call we felt cared for. When you spend so much time battling with authorities, as I do to get support for Thomas, you begin to think you're all alone. But with CAP, I knew you were always there for me.
Sarah, the CAP debt coach, came to our house and went through everything. If I'm honest with you, I was nervous about her looking at our bank statements. Would she think we were irresponsible? To hear Sarah say it wasn't our fault lifted a weight from my shoulders.
We started a repayment plan to chip away at the debt. I remember calling CAP once to pause the repayments so I could fund an assessment for Thomas. It was no problem – and the advisor even said he would pray for us. I'm not religious at all, but between you and me, when everything went so well for Thomas that week I did wonder if those prayers made a difference…
Then, thanks to you, a few months ago we received the amazing news we never thought we'd hear: you are debt free! After 3 years with CAP, we've done it, together!
I can't tell you what your continued support means to our family.
We recently moved into a newer, bigger house. It's wonderful to see Thomas and Rose settling in. You've given them a happy home to grow up in.

I'm also stopping work this summer to care for Thomas. We could never have done that before. You've given us the freedom to make choices for our family.
And, because you believed in us and stood with us in the tough times, you not only helped us become debt free – you gave us hope.
The words ​'thank you' are too small to express how grateful we are to you. Rose drew this picture to share with you…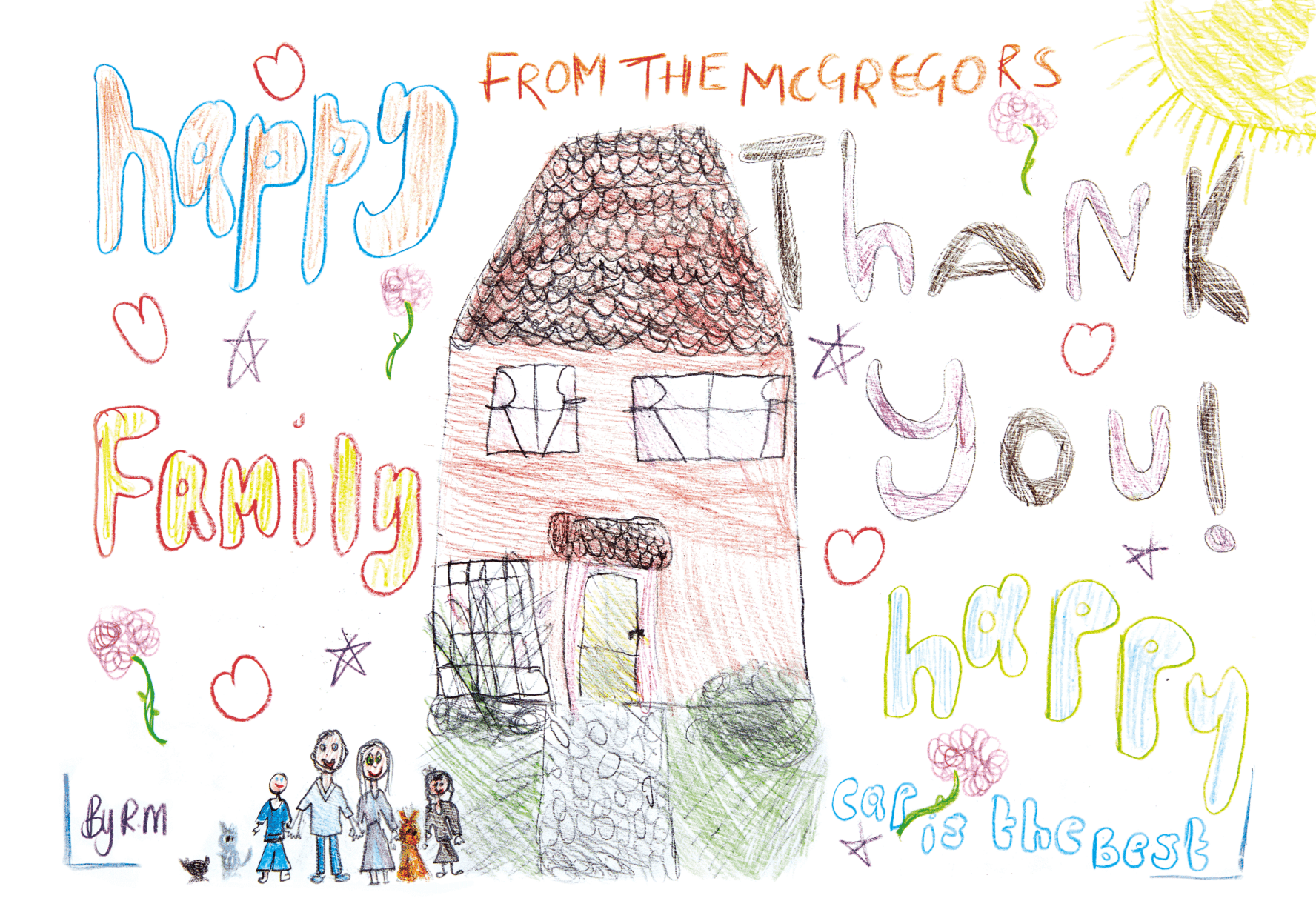 It's us in our new home. I hope it is a reminder of how special you are. Not just to us, but to so many others fighting their way out of debt with your help.
Thank you so much, again, for your generosity, gifts, kindness, prayers, compassion… everything!

Pia