Grace and the Grumblies is a new story and yet one we've heard so many times before at Christians Against Poverty.
On the surface it's a story about dragons, fireflies and superhero adventures. But deep down, it's a tale of a single parent family in desperate circumstances, with unpaid bills and no food to eat, who find hope and help in their local church.
14.5 million
people live in UK poverty (1 in 5)
4.3 million
4.3 million of them are children
Jenny, Steve and their three children were also in desperate circumstances when we first met them back in 2015.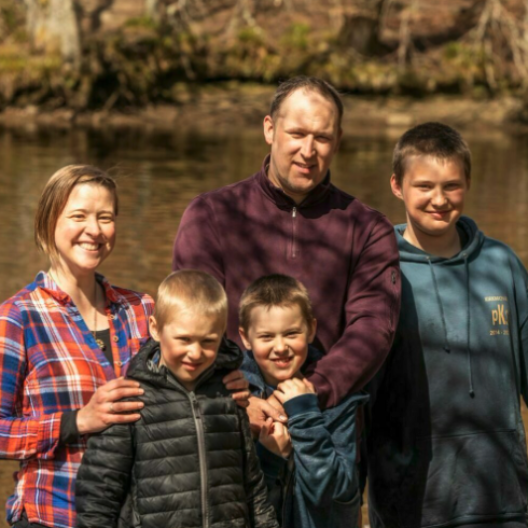 Not being able to actually feed your children is the lowest point you can get', says Jenny. ​'I had 68p in my wallet, no food in the house and the children saying, ​"Mum, I'm hungry!" And I couldn't do anything.
As the cost of living increases and more families are feeling the impact, we're contacted by even more people in a similar situation. The effects can leave parents feeling isolated and hopeless. ​'Seeing that you're still working really hard to provide for your family but not getting anywhere, crumbled me and crumbled Jenny', says Steve after the family income dried up and credit card bills grew and grew.

Thanks to supporters like you, CAP was able to help them to get back on track. Since becoming debt free, they've gone from strength to strength as a family.
Watch Jenny and Steve's story
Not being able to actually feed your children is the lowest point you can get.

Just as a husband, trying to provide for your family and seeing that you still working really, really hard but you're not getting anywhere, crumbled me and crumbled Jenny.
As soon as Angela heard that we were in trouble, she was straight over, same day.

Angela was our debt coach and she came around.
She helped, she literally said, ​"Bring every piece of paper you have," so we did and there was a pile this high, it was massive.

And it wasn't like, ​"Oh wow, crikey, oof, you know, this is gonna take a long time."

It was, ​"It can be done, let's take it from you. Let's sort it out."

Becoming debt free was like a huge weight was lifted off of our shoulders.

And we could just breathe easy, I mean, obviously.
We could sleep, we could sleep at night.

Yeah, we could sleep at night.

We're just a lot more secure, aren't we, we're just… we're a bit more sure of ourselves.

We know, actually, if somebody invites us out to the pub, yeah actually, we could go to the pub if we wanted to.
If somebody wants our kids to come to a birthday party, ​"Yeah, that's fine."

You know, we never would have been able to come through this as a family, without the help from CAP and without the wholeness in the way that they deal with it.
They don't just deal with the money, they deal with the emotions and they deal with the, you know, the practical things as well.
Our boys are thriving in so many ways now.

They're secure because me and Steve are secure.
You know, we talk to each other, we have time for the children.

We take them out to clubs that they've chosen.
You know, they're just really, really happy kids.
And it's lovely to see kids that are just so secure in their family that they've got no worries, it's beautiful.
Being with CAP has shown us and taught us how to almost pass this knowledge that we've learned onto our children.

We give them some pocket money for doing small jobs around the home.

And we say to them, you know, you could spend that money or you could save it and increase your money.

And then you could get something far bigger than, rather than spending what you've got and getting the small things.

You know, just encouraging them to save and to think of the future rather than what's in front of them.

I've asked the kids what they want to be when they grow up and they come back with different things sometimes.
But the one that has stuck out for me has been, I think Ethan wants to be a YouTuber but he also would like to join the RAF.

Silas has always said he wants to be a marine biologist, quite consistently and he's really clever.

Quinn once told me he wants to be a sausage roll. I'm hoping that ambition will change.

For the time being, he's not given me any other indication what he wants to be.
As long as he's happy, I'm happy.

The future for me looks really bright for our kids and for our family and actually having the promise of a better future is priceless.

(upbeat music)
Life is full of uncertainty, but having worked with CAP and our church family, we feel like we have an army behind us!

Jenny (mum, engineering student, and debt free!)