1 in 5
people in the UK live in poverty
1,946
individuals became debt free through CAP in 2022
200+
people respond to Jesus every year through a local church connected with CAP
Will you give to help a family like Holly's?
Thank you for finding out more about how you can help families and individuals who are struggling with poverty and unmanageable debt, after seeing CAP featured as Premier Christian Radio's Charity of the Year.
Right now, across the UK's four nations, poverty is devastating lives. Our faith means we cannot stand by and let this happen. In partnership with Premier, we're committed to facing poverty head on, and we need you to join the fight.
Will you consider a monthly donation of just £19 a month for 9 months?

Your monthly donation of £19 for 9 months could take a family from their first call to CAP to becoming debt free through a Debt Relief Order.

Every person's best route out of debt looks different. CAP takes into account each person's situation, and our professional Debt Advisors establish a bespoke, structured route out of debt that's suitable for each and every person's individual circumstances.

Throughout the whole process, our local church-based teams are there to offer prayer, practical help and emotional support. They make sure families and individuals are empowered to move forward with confidence and hope, as well as giving them the chance to respond to the gospel.

Your gift could support families and individuals facing poverty and the devastating effects of the cost of living crisis. Your donation will help establish a clear route out of debt, giving them peace of mind and the hope of a brighter future.

During the eighth month of your giving, our friendly in-house team will give you a courtesy call to confirm when your donation will stop, unless you decide you'd like to continue with it.

Change is only possible if we work together. United, we can end UK poverty, one transformed life at a time. Will you join the fight today with a donation to CAP?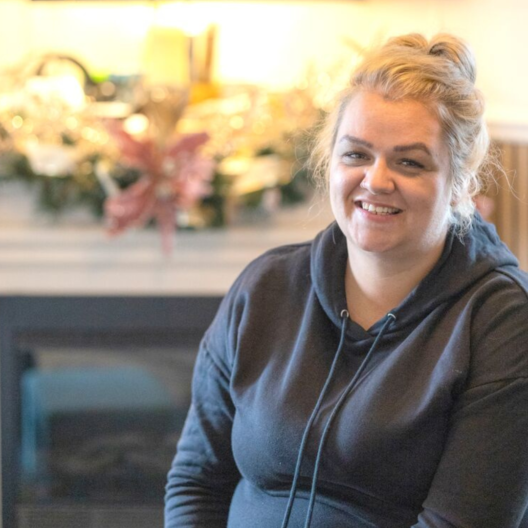 Irene came into my life and brought God's love and light with her.

Holly, now debt free through CAP
Caring for her three-year-old son alone meant working fewer hours, with a stack of debt left by her former partner, and worsening health due to stress. Holly was worried she'd have to bring her newborn son up under the shadow of a mountain of letters from creditors.
Holly reached out to CAP in hopes of a fresh start for her son. When she met Irene, a CAP Debt Coach from her local church, Holly's life changed.

​'Imagine being in a room that's pitch black,' Holly says. ​'The doors are shut. The curtains are closed. Then someone opens the door and there's a light. There's a way out of that darkness. That was Irene.'
Irene helped Holly sort through all her debt letters, with expert support from the professional Debt Advisors at CAP's head office. She visited Holly, prayed for her, kept in touch over the phone, and made sure she had all the support she needed as she worked her way out of debt.
Now, Holly is finally able to say: ​'I'm debt free.' She even took all her old debt letters and used them to create some beautiful angel wings, representing the love and light Irene continued to show her. ​'She felt like an angel', Holly says.
Now things look very different for Holly.
'When all the stress was taken away, it was amazing. I've been able to focus on joy with my son and doing things with him, rather than worrying. Debt has a massive effect on everything, and as my mental health got better, my physical health got better too.'
With the rising cost of living, Holly still faces challenges. But this time, she has a support network who are there for her, including Irene, who has become a friend.

With more and more people like Holly facing rising costs, debt and financial worry, it's going to take every single one of us to fight back.

Will you help a family like Holly's with a donation towards the work of CAP today? Together we can face poverty head on.