Give a gift that brings light in the darkness and write your will with expert help, for free
A gift in your will is a pledge to bring light to the lives of others for many, many years to come. At Christians Against Poverty, we believe in making changes that impact whole families and future generations.
Leaving a gift in your will is easy to do. You can choose to use a professional will-writing service or a solicitor. We've partnered with two organisations to offer you a free service to write your will. This is an exclusive offer for CAP supporters and availability is limited, so don't miss out!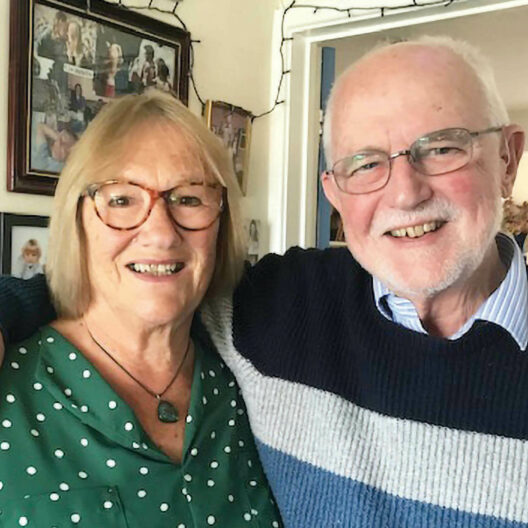 There are lots of debt organisations helping people, but none like CAP, who bring hope and a message that you're not alone.

Lizzy and Hilary, CAP supporters who have pledged a gift in their will
Making your will just got a little easier
We've partnered with the National Free Wills Network and Farewill to offer you the chance to have your will written for free, either in person with a solicitor, or online. This offer is available to our supporters for a limited time only – don't miss out!

Please note: the in-person and telephone service for the National Free Wills Network is available across the whole of the UK, however the online service is currently only available for residents of England and Wales.
You can use our free will-writing service to make changes to an existing will. This could include adding a codicil to your will to support the charitable causes you care about most.
Choosing to leave a gift to CAP in this way is quick and easy, and it will bring the light of Jesus to families who are trapped in darkness.
To find out more about leaving a gift in your will, order our free pack. You could also call us on 01274 761980 (9am to 5pm, Monday to Friday) to talk through your options with the CAP team.

When writing a will, we know that most people will first want to know their family is provided for. After that, leaving a gift to charity can be a meaningful way of supporting the causes that are most important to you.
A gift in your will can bring light in the darkness for people living in poverty. Your legacy can have an impact that continues for generations to come.
When someone is set free from poverty, it changes more than that person's life. They're breaking the cycle of poverty by passing on vital budgeting skills to their children. Many are even finding eternal hope in Jesus and a place to belong in the church community. When you leave a gift to CAP, you're making this change possible and offering hope to families trapped in darkness.
We've prepared a free guide to leaving in a gift in your will, to make it as simple as possible to leave a lasting legacy.